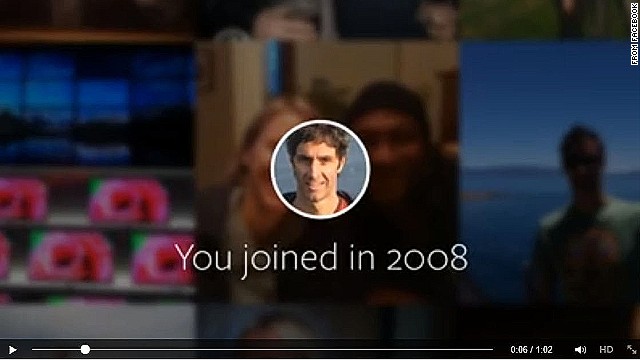 To mark its tenth anniversary, Facebook created a video with the highlights of the activity of each user on the network.
If you have an account on Facebook, a new video about life in that network was created on Tuesday .
Yes , your life . And of all .
With the help of an automated tool , and personalized Facebook created short video for "hundreds of millions" of users. 62 seconds clip shows the year in which you joined Facebook, then shows several of your posts with more ' likes ' and a random selection of photos, all with a background of instrumental music.
Facebook posted the videos titled " A Look Back" ( A look back ) to commemorate the tenth anniversary of the social network, which was founded by Mark Zuckerberg and four of his colleagues in the Harvard University February 4, 2004 .
"People often ask if I always imagined that Facebook would become what it is today. No way , " Zuckerberg , chief executive , wrote in a posting on its network Tuesday.
"I remember ordering pizza with my friends one night in college shortly after launch Facebook . I told them I was excited to help connect the community in our school, but one day someone needed to connect the world. "
LEE 9 ways Facebook changed the way we talk
The videos are available to all who use Facebook in English, Spanish , Italian, German , French, Turkish , Indonesian and Brazilian Portuguese, a spokesman told CNN Facebook .
Depending on how much content you have and how much you've shared to Facebook , you'll see a custom video, a collection of your photos or a simple thank you card, the spokesman said.
Facebook said its users can share the video on their sites since midday Tuesday. The videos will only be available for about a month, at least that share in your Bio . Only you can see your video if you do not share .
If the clip contains publications you'd rather keep private , you can edit them using the button " Edit your movie," said the spokesman.
LEE : 5 Ways Facebook changed us , for better or worse
"It's amazing how all of you have used our tools to create a real community . Have shared the happy and painful times, " Zuckerberg said.
Facebook had created custom presentations for users photos, but this project is the first time the company makes custom videos. A small team of Facebook spent the last month creating videos and ensuring that the company had the resources to process for almost 1,200 million network users .
Amazon Kindles Fire HDX 7 and HDX 8.9 inches tablets: